Buy Fifty Years A Hooker Online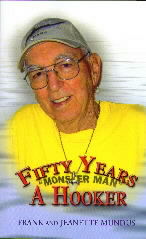 Note: Autographed books are no longer available for purchase online from this website.
Click on the PayPal button below to buy the unsigned paperback edition of Frank's autobiography Fifty Years A Hooker by credit card, using PayPal's secure ordering system. This autographed edition of Frank's book is $25.95 per copy, plus shipping. Your order will be shipped to you by US Postal Service Priority Mail with Delivery Confirmation and you should receive it within 3-7 business days.