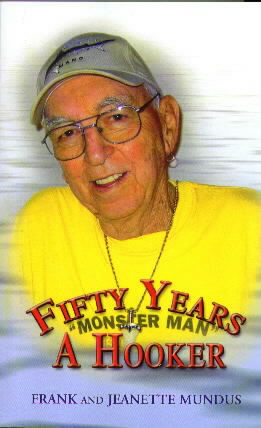 Book Cover Photo Copyright © 2005 Frank and Jeanette Mundus
This book is the autobiography of Frank Mundus, shark fisherman--the real "Quint" and inspiration for the character from the movie "Jaws." Read about how it all began, and of the fish and people that helped make it happen! Every story is 100 percent true. Fifty Years a Hooker has been published by Xlibris Publishing Co. and can be ordered directly from their site Click here to buy the book. Note: Autographed books are no longer available for purchase, but you can buy unsigned copies from this website and Xlibris' site.
Visit one of the best Jaws fan sites on the Internet www.jawsmovie.com
If you are a fisherman/fisherwoman looking for big fish and lots of great international fishing info visit Mike Thrussell's site  
I also recommend R. David Williams' conservation-minded Coastal Shark Fishing site:
http://www.coast-shark.com. It offers a message board, tagging info, online newsletter, weather info, an online shark guide, and a photo album.


Web Design Copyright ©2000-2008 J. M. Mundus. All rights reserved.      
---